Menu
Classic Cheese

Extra cheese + $2 for Small and $3 for Large

Additional Toppings

Broccoli

Eggplant

Garlic

Jalapeños

Peppers

Mushrooms

Onions

Pineapple

Black Olives

Tomatoes

Spinach

Feta Cheese

Pickles

Hamburg

Ham

Bacon

Linguiça

Salami

Pepperoni

Sausage

Caçolia

Meatball

Pastrami

Ricotta Cheese

Specialty Pizza

Steak Bomb Pizza

Shaved steak, peppers, onions, mushrooms, Alfredo sauce, American cheese

Margherita Pizza

White Pizza, fresh mozzarella, tomatoes, garlic, basil, olive oil, Romano cheese

Chicken Fried Special

Plain, BBQ, Buffalo, Golden BBQ, Sweet Asian Chili, Teriyaki or Nashville Hot Sauce

Meat Lovers

Pepperoni, bacon, hamburg, sausage, linguiça

Veggie

Onions, peppers, mushrooms, olives, broccoli, tomato, spinach

Cuz's Special

Pepperoni, sausage, hamburg, linguiça, mushrooms, onions, peppers

Bacon Chicken Ranch

Crispy Chicken, bacon and ranch dressing on white pizza

Portuguesa

Caçoila, linguiça, mushrooms, peppers, onions and bacon

Sausage and Ricotta

Sausage, red pizza sauce, pizza cheese, ricotta cheese

Chicken Broccoli Alfredo

Alfredo sauce base, grilled chicken, broccoli, cheese

Chicken Mozambique

Mozambique sauce, cheese, grilled chicken, caramelized onions

Cheeseburger Pizza

Hamburg, cheese, pickles, onions, ketchup, mustard

B.L.T. Pizza

Sauceless base, cheese, bacon, fresh lettuce, tomato, mayonnaise

Greek Salad Pizza

Greek base, spinach, tomato, feta cheese, onion, banana peppers and olives

Spicy Hawaiian

Sweet Asian chili sauce, caçoila, pineapple, ham

Up to three toppings

Specialty Calzone

Turn any specialty pizza into a calzone!

Additional Toppings

Broccoli

Eggplant

Garlic

Jalapeños

Peppers

Mushrooms

Onions

Pineapple

Black Olives

Tomatoes

Spinach

Feta Cheese

Pickles

Hamburg

Ham

Bacon

Linguiça

Salami

Pepperoni

Sausage

Caçoila

Meatball

Pastrami

Ricotta Cheese

Build-Your-Own Subs & Wraps

Papo Seco $9.00 | Sub/Wrap $12.00

All subs and wraps come with any (3) meats, (1) cheese
and your choice of lettuce, tomato and other toppings.
Additional meats $3 each | Extra cheese $2

Meats

Turkey, ham, salami

Cheese

American, provolone, cheddar, pizza cheese

Veggies

Pickles, lettuce, tomatoes, onions, green peppers, banana peppers, jalepeños, mushrooms

Condiments

Mayonnaise, mustard, grain mustard, horseradish, hot peppers, oil & vinegar

Original Subs

Old Italian

Ham, salami, genoa, provolone cheese, lettuce, tomatoes, onions, pickles, hot pepper relish, oil & vinegar

The B.L.T.

The One, the Only. Crispy bacon piled high with fresh tomato, lettuce and mayo

Veggie Bomb

Grilled peppers, onions and mushrooms with lettuce, tomato and melted cheese

Steak and Cheese

Thin shaved steak and melted cheese

Housemade Tuna Salad

Greek Salad Wrap

Onions, peppers, tomatoes, lettuce, olives, cucumbers, feta, Greek dressing

Chicken Caesar Wrap

Grilled chicken, Caesar dressing, lettuce, parmesan cheese and croutons

Signature Subs

Load it up with double meat for $3!

Steak Bomb

Shaved steak, onions, mushrooms, peppers, pepperoni and melted cheese

Chicken Bomb

Grilled chicken, peppers, onions, mushrooms and melted cheese
Add Buffalo, BBQ, Golden BBQ, Sweet Asian Chili, Teriyaki or Nashville Hot Sauce

Crispy Chicken Sub

Crispy chicken, lettuce, tomato and your choice of blue cheese or ranch
Add Buffalo, BBQ, Golden BBQ, Sweet Asian Chili, Teriyaki or Nashville Hot Sauce

Pastrami and Cheese

Old Neighborhood Pastrami, onions and melted cheese

Turkey B.L.T.

Fresh sliced McKenzie natural artisan turkey, crispy bacon, cheese, lettuce, tomato, mayo and hot peppers

Cheeseburger Cheeseburger

Two fresh 100% all-beef patties, cheese, lettuce, tomato, onions, ketchup, mustard and pickles
Add bacon $2

Davy's Special Italian

Fresh Genoa salami, ham, prosciutto, capicola, provolone cheese, hot peppers, lettuce, tomato, onion, pickles, mayo and oil & vinegar. Loaded!

Baked Parm Sub

Fresh chicken, meatball or eggplant, baked with melted cheese and housemade red sauce

Linguiça and Fries-Wich*

Ground linguiça coupled with fries and smothered in melty cheese and housemade red sauce. Just order it. *Also available as a small sandwich on papo seco: $9.00

Caçoila Special*

Seasoned pork butt, grilled onions, melted cheese, and hots. *Also available as a small sandwich on papo seco: $9.00

Vovô's Bifana*

Another beloved family recipe! Marinated pork cutlets, caramelized onions, provolone cheese and hots. *Also available as a small sandwich on papo seco: $9.00

Soup & Salad

Clam Chowda

Soupa de Dia

Garden Greens

Mixed lettuce, tomatoes, cucumbers, peppers, onions, croutons

Caesar Salad

Romaine lettuce, croutons, shaved parmesan cheese and Caesar dressing

Greek Salad

Mixed lettuce, tomatoes, cucumbers, peppers, banana peppers, onions, olives and feta cheese

Antipasto

Salami, pepperoni, ham, banana peppers and pizza cheese on a garden salad

Add Protein

Grilled chicken, crispy chicken, buffalo chicken, BBQ Chicken, tuna

Want extra dressing? It's on the house!

Starters & Sides

French Fries

Cheese Fries

Add bacon $2, flavored fried chicken or steak $3

Mozambique Fries

Mozambique sauce, grilled chicken, banana peppers

Onion Rings

Mozzarella Sticks

Homemade Garlic Bread

Make it cheesy for an extra $1

Chicken Tenders

Fresh, house-breaded chicken tenders – 13 Pieces
Plain, Buffalo, BBQ, Golden BBQ, Sweet n' Sour, Honey Mustard, Sweet Asian Chili, Teriyaki or Nashville Hot Sauce

Wing Dings

10 or 20 Wings
Plain, Buffalo, BBQ, Golden BBQ, Sweet n' Sour, Honey Mustard, Sweet Asian Chili, Teriyaki or Nashville Hot Sauce

Chicken Tender Platter

Fresh, house-breaded chicken tenders served with crispy fries
Plain, Buffalo, BBQ, Golden BBQ, Sweet n' Sour, Honey Mustard, Sweet Asian Chili, Teriyaki or Nashville Hot Sauce

Wing Ding Platter

Wing dings served with crispy fries
Plain, Buffalo, BBQ, Golden BBQ, Sweet n' Sour, Honey Mustard, Sweet Asian Chili, Teriyaki or Nashville Hot Sauce

Cheese Pizza Slice

Pepperoni Pizza Slice

Deep River Chips

Small and large bags available

Signature Burgers

Burgers are 100% fresh, all-beef patties, served with crispy fries.
Substitute onion rings or wedges for $1 | Double patty +$3

Cheddar Bacon

Fresh beef patty, cheddar cheese, bacon, mayo, lettuce, tomato

Rodeo

Fresh beef patty, cheddar cheese, caramelized onions, onion rings, BBQ sauce

Hamburger

Fresh 100% all-beef patty. Add vegetables at no cost.
Add cheese $1, bacon $2

Pasta

Choose spaghetti or ziti.
Served with garlic bread.

Pasta Dinner

Fresh pasta and housemade red sauce
Alfredo sauce substitute, add $1

Meatball Dinner

Chicken or Eggplant Parm

Chicken Broccoli Alfredo

Fresh ziti pasta with grilled chicken, broccoli and Alfredo sauce

Chicken Mozambique

Mozambique sauce, grilled chicken and banana peppers. Served with a papo seco

Sweets and Treats

Hoff's Bakery Specialty Cakes

Choose from Mississippi Mud Pie, Peanut Butter Cup Brownie, Chocolate Chip Cookie Bar, Tiramisu or Seasonal Special

Drinks

Polar Beverages are $2+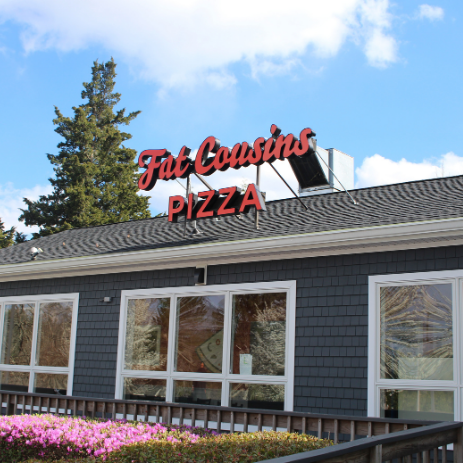 Pizza and More…
Our family — our big, giant crazy family — is ready to share our love of delicious, down-home, made-with-love food with you.
From a simple slice of pizza to one of our specialty sandwiches, we're obsessed with serving you the tastiest, heartiest, better-than-your-auntie's meals for lunch, dinner and anytime your belly starts to rumble.
And, no, there isn't one Fat Cousin. We're all Fat Cousins. For us, being a Fat Cousin is feeling comfortable and full of laughter, memories, and great food. It's about being happy and really, really enjoying that last bite (before a sibling or cousin steals it from your plate!)
Love your family. Live your life. Feed your belly.
Be one of our Fat Cousins.
Keep in Touch
Keep up on new items, promotions, rewards and upcoming events!